Dog Walkies, happy pooch!
Amended availability in the last over 1 year
Available for bookings
Not available
Love all dogs all breeds and sizes, I've years of experience and always kept dogs in the past. Right now we don't have a dog but am super happy to mind and walk them for now! I'm also vigilant and mindful. Those who like to fetch can be played with on their walk!
| | |
| --- | --- |
| Average rating | |
| Dog Walking Rate | €15 / hour |
| City | Kilcullen |
| Address | LogstownKilcullen |
Other clients' reviews of Kelly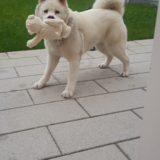 Eric
& Béar
Kelly was more than welcoming from the beginning. It was obvious she had a genuine passion and plenty of knowledge about different dogs. Béar was comfortable with her straight away. Would definitely recommend as you will have no worries
Dorothy
& Trixie
Sarah
& Bonnie
Kelly is a lovely person and a fantastic dog minder. Right from the start we had no worries about Bonnie as we knew she was in good hands! She genuinely really loves dogs and she made sure that Bonnie had a really enjoyable stay with lots of exercise and plenty of TLC. I would have no hesitation in recommending Kelly.
Dorothy
& Trixie
I was happy with Kelly. Trixie liked her from the moment she met Kelly. She became Kelly's shadow which is a great sign. Trixie wanted to be with Kelly and was very happy there
Barry
& Missy
Thanks Kelly, for taking such good care of Missy.
It is obvious that you are a dog lover and a very caring person, I could see that quite clearly when I went to collect her. Thanks for going the extra mile in caring for her.
Hope you can look after her again some time,
Brendan
& Zebo
We left our dog zebo with Kelly for 11 days and can safely say he had a great time and was really well looked after. I would highly recommend Kelly to anyone and we will be definetly using her again in the future.
Consol
& Cosmo
Kelly did a great job looking after our dog. We would not hesitate to recommend Kelly r for minding your dog. She's very pleasant and welcoming.
Gudog services in Kilcullen